The President of Yarmouk University, Professor Islam Massad, confirmed that the university, through the Deanship of Student Affairs and relevant administrative departments, began preparing and developing plans to reorganize the "graduation ceremony" for the current academic year, after ceasing for about two years because of the repercussions of the Corona pandemic. He added, during his meeting with a group of students of the Faculty of Arts, that the most prominent challenge for the University is to raise the status of its students in various fields of knowledge and fields, emphasizing that the ideal outputs of the university are represented by graduates equipped with necessary knowledge and skills that enable graduates to compete in the labor market efficiently and effectively.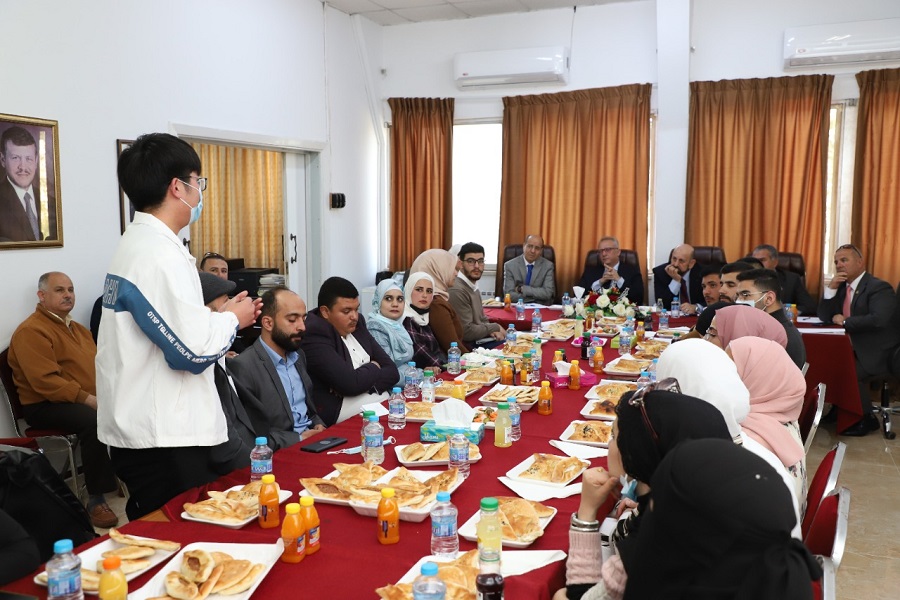 Massad then pointed out that the university, through its relevant councils and departments, has begun to reconsider its legislation and regulations related to the various aspects of the university life to keep pace with several developments. He further stated that the university has begun to reconsider its study plans for all disciplines at the postgraduate level, considering the need to focus on the various life skills needed by students to contribute to their community successfully. Moreover, Massad declared that Yarmouk University has allocated a considerable portion of its budget for this year to rehabilitate its campus and its various facilities, especially concerning the needs of its students with disabilities.
Finally, the president listened to students' remarks about the various conditions and concerns of their Faculty, especially the departments' infrastructure, laboratories, and facilities. However, the meeting was attended by the Vice President for Academic Affairs, Professor Mowaffaq al-Omoush, the Vice President for Administrative Affairs, Professor Riyad al-Momani, the Dean of the Faculty of Arts, Professor Musa al-Rababah, the Dean of Student Affairs, Professor Muhammad Thiabat, the Director of Public Relations and Media, Dr. Nawzat Abu Al-Asal, and several faculty and administrative staff members.